Shasta & the Greater North State's

first Mini Maker Faire!
The Shasta County Mini Maker Faire, hosted by Turtle Bay, is a chance for our North State California counties to celebrate its local makers.   It is a family-friendly event that celebrates the creativity of individuals, students, educators, innovators, and businesses in the community. Mini Maker Faire allows creators to showcase their work to the community, while the public comes to enjoy interactive experiences, connect with like-minded people, and be inspired. Maker Faire supports passionate innovation, collaboration, and hands-on doing as a way of experiencing the world.
America is a nation of makers!
Makers are parents, students, teachers, crafters, artists, tinkerers, tech enthusiasts, scientists, engineers, innovators, and entrepreneurs. We are of all ages and all backgrounds.  We all share a love for innovation, creativity and inspiring others to make something—anything!  We share a passion for the Maker process.
"Making is a way of creative expression. The sort of thing that happens when science, art, technology and design are combined. It has also been referred to as tinkering, crafting, building and many other cool sounding verbs. Making embraces a broad area of interests and skills; in fact, maker projects commonly combine several of each … Making requires learning how to use and control both tools and materials. Makers use old as well as new tools (i.e. 3D printers, laser cutters) to bring their ideas into the physical world. Advances in technology have allowed the making of physical things to be easier than ever before…. Makers are also found throughout history. I would consider Thomas Edison, Alexander Bell, Tim Berners, Alan Turing, Henry Ford, Steve Wozniak, Steve Jobs, Benjamin Franklin, Orville and Wilbur Wright all makers."   Paul Hill
in collaboration with:
MISSION STATEMENT:
To inspire wonder, exploration, and appreciation of our world.
VISION STATEMENT:
We envision Turtle Bay Exploration Park as a vibrant gathering place where our community is strengthened through education, cultural engagement and economic growth.
About Maker Faire
Maker Faire is the Greatest Show (and Tell) on Earth—a family-friendly showcase of invention, creativity and resourcefulness, and a celebration of the Maker Movement. It's a place where people show what they are making, and share what they are learning.
Makers range from tech enthusiasts to crafters to homesteaders to scientists to garage tinkerers. They are of all ages and backgrounds. The aim of Maker Faire is to entertain, inform, connect and grow this community.

The original Maker Faire event was held in San Mateo, CA and in 2015 celebrated its tenth annual show with some 1100+ makers and 145,000 people in attendance. World Maker Faire New York, the other flagship event, has grown in four years to 600+ makers and 80,000 attendees. Detroit, Kansas City, Atlanta, Milwaukee, Orlando, Pittsburgh, San Diego, Silver Spring, Ottawa, Lisbon, Paris, Rome, Berlin, Newcastle, Hannover, Oslo, Trondheim, Seoul, Singapore, Taipei, Tokyo, and Shenzhen are the home of larger-scale, "featured" Maker Faires. In addition, over 120 community-driven, independently organized Mini Maker Faires are now being produced around the United States and the world—including right here in Redding, California.
Maker Faire is supported by Make: magazine and Maker Media.
About Make: Magazine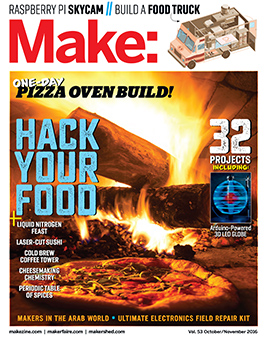 Make: is the first magazine devoted entirely to Do-It-Yourself (DIY) technology projects.
Make: unites, inspires, informs, and entertains a growing community of resourceful people who undertake amazing projects in their backyards, basements, and garages.
Make: celebrates your right to tweak, hack, and bend any technology to your will.
Besides the magazine and the faire,
Make: and Maker Media is: